How do you make sure that external people will not access your confidential data when returning your rental computer equipment (photocopiers, printers, etc.)? They can be formidable informants thanks to their hard drives which keep track of all printed and scanned documents.

When you decide to donate your computer hardware to charities for a second life, how do you make sure all sensitive data is really erased?

And when you reuse your IT equipment internally, how do you make sure that the computer assigned to the new Operations Coordinator does not inadvertently deliver HR information stored by its previous user? It is important that you ensure that your sensitive data is erased from servers, laptops, desktops and hard drives before handing it over to a third party. With our data erasure solution, it couldn't be easier. Whether you want to return, resell, donate or reuse your computer hardware, we make sure that your hard drives and other media are made free of all data.

Katana Digital offers you a global solution for managing your IT media at the end of its life, or in the process of being renewed, by combining the expertise of leader of the destruction of confidential data with the use of the most effective data erasure software, efficient and market certified.

Katana Digital offers its customers a 100% secure diagnostic and erase solution for smartphones, laptops, removable disks etc. With our certified data erasure process, businesses now have a secure method for erasing digital data. Each erasure procedure is verified and certified with the production of a signed forgery-proof erasure certificate.
HOW DOES KATANA DIGITAL WORK?

1. ON-SITE ARRIVAL
KATANA TAKES OVER YOUR HARD-DRIVES AND OTHER DIGITAL SUPPORTS

2. HARD-DRIVES SCAN
A KATANA EMPLOYEE IS IN CHARGE OF SCANNING EACH SUPPORT TO PROVIDE YOU A TOTAL TRACEABILITY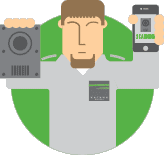 3. ERASURE
100% SECURE DIAGNOSIS AND ERASURE OF YOUR DIGITAL DATA

4. ON-SITE SHREDDING
FOR DEFECTIVE MEDIA WHERE THE ERASING DID NOT WORK, KATANA GUARANTEES THEIR IMMEDIATE DESTRUCTION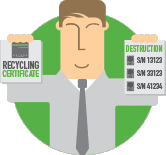 5. CERTIFICATION
AFTER EACH INTERVENTION, YOU WILL RECEIVE AN INTERVENTION REPORT AND AN ERASURE CERTIFICATE
THE KATANA EXPERIENCE
Total annihilation of data stored on hard drive guaranteed
Onsite data erasure
Use of the leading software in the data erasure market
OUR ADDED VALUE
Pioneer and leader since 2004
A national coverage
A track record of excellence and reliability
Une NAID CERTIFIED with international recognition
Do you have archives, confidential documents or hard-drives to destroy?