Backing up your electronic data is good. Making sure it's properly destroyed is better. Some believe that reformatting a hard drive will forever eliminate the information thereon. This is not true ! We at Katana believe that the destruction of the hardware is the only safe and sure way as the date no longer exists. Katana offers you a tailored made tool to rid yourself forever and before your eyes of your hard disc.

Please watch this video about Katana Digital :

HOW DOES KATANA DIGITAL WORK?

1. ON-SITE ARRIVAL
LOADING OF YOUR HARD-DRIVES IN KATANA DIGITAL'S TRUCK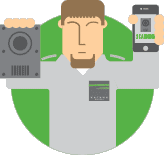 2. HARD-DRIVES SCAN
A KATANA OFFICIAL SCANS EVERY HARD-DRIVE IN ORDER TO OFFER A 100% TRACABILITY

3. ON-SITE SHREDDING
SHREDDÎNG OF THE HARD-DRIVES ON-SITE DIRECTLY IN OUR TRUCK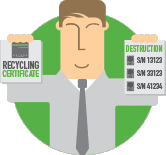 4. CERTIFICATION
ONCE SHREDDING COMPLETED, YOU WILL RECEIVE A CERTIFICATE DIRECTLY VIA E-MAIL.
THE KATANA EXPERIENCE
Total annihilation of data stored on hard drive guaranteed.
Unique onsite destruction of hard drive.
Saves time and minimizes risk.
OUR ADDED VALUE
Pioneer and leader since2004
A homogenous service throughout Switzerland
A track record of excellence and reliability
NAID CERTIFIED with international recognition
Do you have archives, confidential documents or hard-drives to destroy?