KATANA SOLUTION FOR DATA CENTERS
Now there is a new service you can offer your clients: on-site destruction of their hard disk drives. You and your clients place a high priority on security. So why limit it to protecting your data center by controlled access and video surveillance?
Instead, you can help clients to address a common dilemma: what to do with their hard disk drives once they are no longer needed. Help them by proposing a secure solution.
Katana Digital is an on-site destruction service for computer storage media such as hard disk drives, magnetic tape, and mobile phones.
This 100% secure service will strengthen the overall attractiveness of your data center offering for clients all the while responding to a growing demand.
On-site physical destruction of hard disk drives is the only risk-free solution because it involves no transportation. The destruction is done in your presence and/or under the supervision of your client.
Following the destruction, you will receive a service report listing the serial numbers of the destroyed hard disk drives as well as a certificate of destruction, thus ensuring complete traceability.
Katana Digital spares you needless storage of hard disk drives, their partial destruction, and the risk of data theft, which can cost dearly and damage your clients' reputation as well as that of your data center.
KATANA DIGITAL: THE ANSWER TO A REAL NEED
Stockpiling old hard drives leaves you vulnerable.
Data that you erase, reformat, wipe or degauss can be restored.
Improper destruction could lead to a costly breach.
A security breach / information leak will cost your data center money, not to mention reputation damage and loss of business.
HOW DOES KATANA DIGITAL WORK?

1. ON-SITE ARRIVAL
HANDLING OF THE HARDDRIVES DIRECTLY ON-SITE AT YOUR DATA-CENTER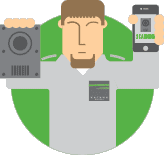 2. SCANNING
EACH HARD DRIVE IS SCANNED BY A KATANA OFFICIAL, OFFERING FULL TRACABILITY

3. SHREDDING
ON-SITE SHREDDING OF THE HARD-DRIVES, INSIDE THE KATANA TRUCK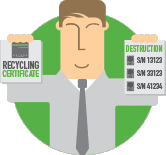 4. CERTIFICATION
A RECYCLING CERTIFICATE AND A DETAILED DESTRUCTION REPORT IS SENT VIA EMAIL.
THE KATANA DIGITAL SOLUTION ENABLES YOU TO:
Increase security
Add another service to your offer
Respond to a growing demand
No transport = No Risks
Generate additional revenues
OUR ADDED VALUE
Pioneer and leadersince2004
A homogenous service throughout Switzerland
A track record of excellence and reliability
NAID CERTIFIED with international recognition
Do you have archives, confidential documents or hard-drives to destroy?